Plenary Speaker
---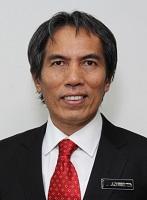 YBhg. Dato' Sr Dr. Azhari Bin Mohamed DMSM, AMN, PJK, FRISM CHAIRMAN
Director General of Survey & Mapping Malaysia
Dato' Sr Dr. Azhari bin Mohamed is currently the Director General of Survey and Mapping at the Department of Survey and Mapping Malaysia (JUPEM) in Kuala Lumpur. He had worked as a District Surveyor in Kelantan, Kedah and Perlis and had also served at the Geodetic Survey Division and Boundary Affairs Division. He graduated with an Honours B.Sc. in Surveying and Mapping Sciences from University of East London in 1984 and an M.Phil in GPS Geodesy from the University of Newcastle upon Tyne in 1995. In 2003, he obtained a PhD in Geomatic Engineering from the Universiti Teknologi Malaysia.
His current research interests include the study of the dynamics of the Earth as observed by space geodetic techniques, GPS time series for crustal deformation, sea level variation, Islamic astronomy and new moon observation. He is an author and co-author of over 50 technical papers and seven books on a variety of topics, notably in geodesy and Islamic astronomy. Currently he is the Vice President of the Royal Institution of Surveyors Malaysia (RISM), Chairman of the Geomatics and Land Surveying Division of RISM, Deputy President of the Malaysian Islamic Astronomical Society, the Secretary of the National Eclipse Trackers (ET) Team and a committee member of the Falak Expert Panel of JAKIM. In 2017, he was elected as Vice-Chair of Working Group 1 of Geodetic Reference Framework for Sustainable Development, United Nations Global Geospatial Information Management Asia Pacific (UN-GGIMAP).
He was an external examiner for two Master students and a co-supervisor of one successful PhD student. He is also a Fellow of the RISM, an Honorary Fellow of the International Institute of Utility Specialists (IIUS) in Hong Kong, a registered land surveyor and an Adjunct Professor at the Universiti Teknologi Malaysia (UTM). He has appeared on several TV programmes, including RTM1 Inovasi, Buletin Utama TV3, RTM1 Panorama, Journal Islam and Forum Perdana Hal Ehwal Islam as well as TV3 Selamat Pagi Malaysia and TV9 Nasi Lemak Kopi 'O'. In 2018, he was presented with the national Tokoh Maulidur Rasul Award by the Deputy Yang DiPertuan Agong Sultan Nazrin Muizzuddin Shah.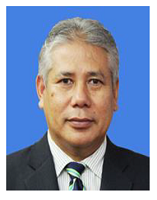 Sr Mohd Latif Bin Zainal
Plenary Speaker on behalf of Director General of Survey and Mapping
Sr Mohd Latif Bin Zainal is a currently a Director of Survey in Coordinating and Mapping Policy Division, Department of Survey and Mapping Malaysia. He involved with Department of Survey and Mapping Malaysia for about 37 years and has a wide experience in his field. He has also involved in a few international projects such as Chairman of Joint Land Boundary Malaysia-Thailand and Joint Border Mapping Malaysia-Indonesia Committee He has graduated his master level of studies in Geoinformation Management from Twente University, Netherland and Bachelor degree from Universiti Teknologi Malaysia in Land Surveying. He is also a Licensed Land Surveyor registered under Land Surveyor Board, Malaysia. He has been awarded Pingat Mangku Negara (PMN) in also Anugerah Khas Menteri in 2019 for his tremendous achievement and contribution in survey and mapping Malaysia.